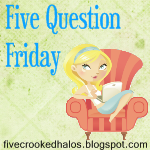 1. What is your worst memory of your siblings?
I'm not really sure how to answer this one....I'm going to say that the worst memory would have to be the lack there of. I have 5 siblings, but am lacking a lot of sibling stories because of our blended family.
My parents marriage is the second for both of them and they both brought children with them, I was their only child though. I have 4 brothers and 1 sister, all half's (we share one parent). My brothers are 41, 37, 33, and 35. My sister (hope she doesn't mind me telling how old she is ;) is 31. And I am 29, so that gives you an idea of the age gaps. Now onto living arrangements growing up.
My oldest brother (Darrin) moved out when he was 16, so I have no memory of ever living with him as a child because I would have been 3 when he left. He did come back home several different times as an adult while I was a teenager and we were able to get a little closer. Now that we're both adults, everything is fine, still wouldn't say we have a really strong sibling bond though.
Next brothers, (Tim and Matt) that would be the 37 and 33 years olds, were my mom's 2 other sons and they were raised in my parents home until I was 10. Tim was a senior in high school and Matt a freshmen and they both left, Tim went out on his own and Matt moved in with his dad. As a child I would have been the closest with these two, but there is a 5 year gap between me and Matt and a 9 year gap between me and Tim, so it's hard to be real close. Since they were boys, they were closer to each other and I was just the bratty, tag-a-long, tattle tale little sister. It was this way with my cousins on my mom's side too. I was the 9th grand child and only girl! Grandma sure was excited to have me, but unfortunately she died when I was 3 so I don't remember her. Now, that we're older, we're all pretty close I suppose. Tim and I seem to talk the most out of these 3 brothers. He actually calls to check in, as do I. I'm working on getting closer with Matt...
My other brother (Brent) was my dad's oldest son and I only saw him and my sister every other weekend and that ended about the time Brent got to high school. I had a near non-existent relationship with him for many years, add that up with his drug addiction problem and he was more like a stranger than family. But he is family, and he's getting deliverance from his addiction and we are already developing a new sibling relationship and it's wonderful!
And that leaves my big sis Jaimee! Now, I'm very proud to say that although we were like strangers as children, as adults we've grown very close and she is one of my best friends! The other two best friends I have are my mom and my hubby. I'm so thankful every day that we got to know each other and became so close. It's been awesome to have a sister!
So, I'm sad to say that I have very few childhood memories to share, but I'm really glad that as an adult I've grown closer to my siblings.
Bet you didn't expect all that from a 5QF question?? Oh well, I tend to take them and run with it!
2. What was YOUR naughtiest childhood memory? (Must be something YOU did, no pawning it off on someone else!)
I didn't do anything naughty! ;) I left it to my older brothers and I just tattled on them.
No really, I can't think of one single naughty thing.
I'll ask my Mom and maybe I'll have a story to share. Mom, if I did anything super naughty, leave the story in a comment for me so everyone will know!
3. Where do you like to go to relax?
Anywhere, I can sit down for more than 5 minutes!
4. What was the last thing you won?
Before that, I guess it would be a gift card for a blog makeover!
5. If you could be on a game show, which would you choose?
Deal or No Deal, Ross and I have always loved watching that show!
That's it for this week. I hope you all have a wonderful Mother's Day weekend! Don't forget to take a moment for yourselves moms. I'm going to spend my Mother's Day with my Mom!
Don't forget to check out Mama M. for her 5 questions and all the other linker uppers!