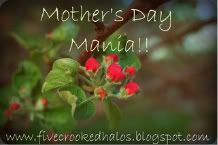 Mama M.
at
My Little Life
has decided to have another celebratory blog hop, this time for Mother's Day. I need all the help I can get blogging these days, so I'm linking up for the rest of the week. Hope you enjoy!
Whoopsie Wednesday
I hate to admit it, but as much as I would like to be the perfect mother who does nothing wrong and has never hurt her children, I can't say that....
When Alexis was just a few weeks old, I was doing my motherly duty and trimming her tiny little finger nails so she couldn't scratch herself. Now, as you mothers know, trimming nails can be a challenge when they won't hold still and constantly try to pull their little hand away from you. (If anyone had any tips to make it easier, I'm all ears!)
So, I'm getting all lined up for the next clip and squeeze down and at first I thought that I didn't squeeze hard enough on those safety clippers so, I go again. Horrible mother me, didn't have it on her nail, I had it on her finger tip instead, so she starts spewing blood out of her finger tip and screaming her little head off too. I hollered for Ross to come help me because I was crying at this point too. Imagine me, extremely hormonal, new mother, has just made her first child bleed and she's only a few weeks old. I was hysterical, Alexis stopped crying before I did.
I didn't realize until much later, that I had taken pictures and forever given myself a reminder of hurting my child.
See all that dried blood under her poor little finger nail?? I felt heart sick every time I saw it until it healed and wasn't visible anymore. The only picture that shows it well is one of her crying, but I promise most of the time she was happy as a baby!
I would love to be able to say that I've never done anything whoopsie with Isabel, but I am human after all.
I had just finished nursing her and she was laying on my lap on the nursing pillow that I use. I was fumbling around trying to get my boob put away and somehow or another in the pulling up of the bra, my hand slipped and those pretty, long, strong pregnancy nails of mine raked right across her forehead giving her not one, but two dandy looking scratches on her head. I felt so, so bad, and of course she was waling just like Alexis had when I cut her little finger.
Unlike the first time with Alexis, I made sure I didn't take any pictures until the scratch was healed because I didn't want any reminders this time.
But, here is a picture of where she scratched herself. I could trim her nails every third day and she'll still find a sharp corner that she can scratch herself with.
Those are my big whoopsie when the girls were little. Since then, I've done other minor whoopsies, but none that induced tears like these two did.