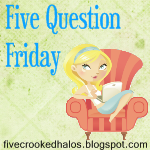 It's finally Friday! Which means it's time for
Five Question Friday
with
Mama M.
over at
My Little Life
1. What are you most afraid of?
Hmmmmm...where to start?
Well I guess my biggest fear would be losing my husband and/or children to some type of accident or tragedy.
I also have this paralyzing fear of mice...I know that sound crazy, but I can't stand the little things. They give me the heebie jeebies. I remember the first time that Mom let me stay at home by myself while she went to the grocery store. I was in my room watching TV and folding laundry. I see this little feisty gray mouse come running out of the kitchen and it disappeared under the pile of dirty laundry waiting to go to the basement. I let out an ear piercing scream and jumped up into the middle of my bed. I called our old arthritic cat up onto the bed with me (because she was so lively, I just knew she would protect me, yeah right). And there I sat until Mom got home. I hollered at her from the door and waited for her to come and make sure the mouse was gone before I got off the bed. By the way, I was 13 at the time! Since then, I'm not quite so skittish, but still have no love for the little nasty poop machines.
My other fear is of falling down stairs. I can just picture losing my balance or footing and going from the top all the way to the bottom and breaking multiple bones or even dying because of it. I always hold on tight when I'm navigating stairs.
2. Do you use a flat iron or curling iron?
Flat iron all the way baby. It's probably been since the 90's that I've used a curling iron.
3. Hands-free or phone to the ear?
Phone to the ear, propped on the shoulder, holding the baby, navigating through email, doing the dishes. I'm pretty good at multitasking. I guess it might be wise for me to go hands free. I could probably get a lot more done.
4. Do you have a matching bedroom set?
Bedroom set?? What's that? I do have a matching head board and foot board with a dresser and mirror set. Haven't had them all together since I lived on the farm with Mom and Dad when I was a teenager. Still not going to have it all together anytime soon. Once our remodel is complete, I will reunite my long separated bed and dresser, but the big mirror for on top of the dresser will remain in storage. We have lots of angled ceilings upstairs, not enough room.
5. Do you believe in the paranormal?
I guess that would be a no.
I do watch plenty of shows that have ghosts and spirits and what not. But, I'm not so sure....
I do believe in the existence of angels and demons. I've heard some amazing stories about angels protecting believers when they were in danger of losing their lives and how miraculous things have happened when you put your faith in Jesus. I've also seen demons being cast out of a young woman and heard them speak through her in the process. Quite an experience, but it showed me at a very young age, the power of Jesus and prayer. No demon can withstand the love of God.
Now, go grab the questions from Mama M. and link up with us!
Happy Friday to you all! It's snowing some of the biggest and most beautiful snow flakes at my house. So pretty!