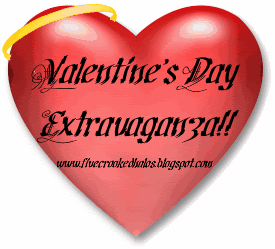 I'm playing along with Mama M. on her Valentine's Day Extravaganza this week.
Today's theme is: What is your favorite memory of your wedding day?
There are entirely too many to pick just one!
So, I'm going to share several with you.
First off, I should tell you that I was probably one of the most laid back brides ever. I didn't get worked up about much of anything.
I didn't even get all that upset when it was discovered that my bridal gown was no longer available and I had to pick another one about 3 weeks before the wedding. (I ended up falling in the love with the new one, I liked it way better than the first one I chose!)
Wedding day dawns beautiful and rather warm. It was June 4th, 2005 and we hadn't had a really warm day yet that year. Until that day, I think it decided to get to about 90°. Thanks a lot, just what I want, sweating like a pig in a huge gown and melting makeup. So everything is still cool until about 4 hours before the wedding, and I sort of have a little melt down.
We got married at a church in St. James. We were going to do a few outside pictures at Maramec Spring Park before the wedding. Hair and makeup was done 1 hour and 15 minutes away in Park Hills. I know, why so far away? Well, I had worked at this shop as a receptionist and I knew all the girls and they had an awesome Merle Norman makeup lady there and that's just where I wanted to do it.
As you all know, girls and hair and makeup doesn't always stay on schedule, so it was looking like we would be late to my own wedding and I still had to dress once I got to the church. I called the photographer and canceled pictures at the Springs. 1.} because I thought it would make the wedding late and 2.} because it was hot and I didn't want to start sweating that profusely until I was shakin' my boo-tay on the dance floor.
I was still kind of flipping out about being late, my wonderful sister/matron of honor reminded me that they can't start without me and it would be okay.
We get to the church and flurry around getting dressed. (We also wanted to do pictures before the wedding.) I'm finally starting to calm down, but I'm still a little on edge. I swiped a swig of the Crown Royal that Ross had filled his groomsman's flask with. And I stepped outside to have a last cig before the ceremony was getting ready to start. Yes, I used to smoke and I thoroughly enjoyed. But, I gave it up for my health and my kid's sake.
It was windy as all heck out there. I wasn't worried about my hair because it had at least a half of can of hairspray on it. So, I'm puffing away and all of sudden, the wind whips my veil around right onto the cherry of my cig, burning a hole into it. Yikes! I get all worked up again, but thanks to Sue, my awesome wedding planner, we fixed it with some clear nail polish and it wasn't even noticeable.
Now, let's move on to the ceremony. Ross and I are standing on stage, gazing lovingly into each others eyes while one of the wedding songs is being played and there are some technical difficulties with the sound. Still not sure what happened but it sounded awful. So, I gave the cut it signal across my neck and we move on.
Okay, now we're getting to the good stuff! I told you I had too many to pick just one! Sorry if I'm boring you, but I'm having a blast thinking about all these memories.
I wasn't exactly at my goal weight when I got married, so I was wearing some tummy controlling granny panties under my gown, and had plans to put on the sexy ones before Ross and I got to our hotel. It was hot...and I was sweating. I don't know about you brides out there, but I had to have a little assistance from my bridesmaid when I used the potty. First time in there, they had to help me pry my sweaty, granny panties back onto my caboose. Second time in the bathroom, I said....*cover your ears, bad word I usually don't say coming up*, screw it, and threw them in the trash can and went commando the rest of the reception!
Fast forward past lots of dancing and a lots beers later...it's time to head to the hotel 2 miles down the road from the reception hall. Ross and I had the truck. Now, anytime we've gone out in the past, Ross is always the one to keep it together and he drives us. He informs me that he is drunk and can't drive. Huh? What's that all about? I've known you for 4½ years and this is the second time I've seen you actually get drunk. So, while I wasn't in the best of shape, a bunch of us were driving back to the hotel at the same time, so I knew I could make it. I'm sure it was a pretty funny sight to see me hauling it into the truck in my wedding gown.
We get back to the hotel and Ross, my charming, wonderful new husband decides that he can't wait to get up to our room to relieve his bladder. He goes behind the truck and takes care of business. Didn't think a thing about it until the next morning when the wedding party and a bunch of my family meets for breakfast. Sue, my wedding planner, is telling us that she saw this guy in the parking lot last night messing with his crouch and then she realizes he's peeing in the parking lot. And then she realizes it's Ross peeing in the parking lot! Yes, thank you, I know that my hubby is slightly red neck sometimes, but I love him to pieces!
Well, that wraps it up, those are some of my favorite memories from my wedding day. Hope you enjoyed!