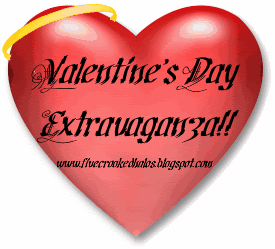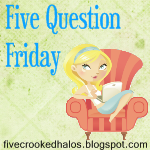 I'm following along with Mama M. all week long on her Valentine's Day Extravaganza. And it's also 5 Question Friday!
Today's theme: A very special 5QF

1. What is the one thing your love does for you that you can't live without?


Well....this is kind of a tough one for me for some reason. I guess I would say that I wouldn't want to live without his love. He knows how to make me feel wanted, special and loved and that would be pretty hard to live without.



2. When did you know your love was "the one"?

About a week or so after we started dating. I just knew he was going to be my man forever. It took 4½ years for us to tie the knot, but I knew from the start he was "the one".



3. Does your love have a special ringtone on your cell?

For years his ringtone used to be Marvin Gaye's "Let's Get It On". Last time I switched phones, I didn't personalize anyone, too much trouble to move contacts from the sim to phone and then have duplicate entries.



4. What are you attracted to most in your special someone?

It's hard to pick just one thing, but I guess it would have to be how thoughtful and loving he can be.



5. Did you know when/where he/she was going to pop the big question?

I had an idea, but I never would have expected it when he did.

Check back over this past week and you'll find all of my Valentine's Day Extravaganza stories! HAPPY FRIDAY!