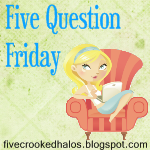 It's Friday, my goodness how this week has flown by. Looking forward to lots of Easter fun and beautiful weather this weekend! Keeping my fingers crossed that this Easter Sunday will be sunny and warm, not cold and wet like the last few years have been. My girls are going to look so cute in their color coordinated dresses this year!!!
Let's get down to business. Here's the questions this week:
1.
Do you sing out loud in the car when

you're

driving?
Absolutely, it's even better than singing in the shower!
2. What would you never be caught doing?
I've honestly never really thought about this question.....
Not coming up with anything.......
I suppose I wouldn't want to be caught.........
3. Will you go #2 in a public restroom?
If it's absolutely necessary. My body seems to know when I'm not in that comfort zone though cause the minute I walk in the door, it's throw everything down and go straight to the bathroom. If Isabel's lucky I'll get her out of her car seat, sometimes she has to wait.
Once when I was a kid, I stayed with some friends at their grandparents home for a week. Didn't go one single time, all week long. It wasn't fun when I did get home. Spent lots of quality time on my porcelain throne with books in hand. Thankfully, I've outgrown that and it's not that bad anymore. I still prefer the comforts of home though.
4. Have you ever broken a bone?
Knock on wood......okay, NOPE!
5. Do you prefer cooking or baking?
Depends on my mood. I was a baking fool this year at Christmas! I seem to enjoy baking when I have lots of time. Otherwise, I cook.
That's it for this weeks edition of 5QF!
Make sure you link up with Mama M. if you are playing along.
See ya next week!
Gggrrrrrrrr, I'm so mad, why isn't Blogger accepting my spacing????
I give up, I'm
usually pretty OCD about spacing and making things look even throughout, but this stupid computer/blogger isn't cooperating with me this morning.
YES!!! I finally got it, persistence will pay off!!! =)