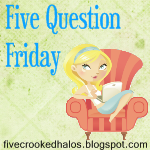 It's Friday again, which means I have to leave the beautiful beach tomorrow......=(. But we aren't talking about it.
I hope you have enjoyed all my guest bloggers this week, I know I did! Thanks again ladies!
Five Question Friday time! Click up there on that cute picture to get back to Mama M. and see all the other participants in 5QF!
1.
What do you think makes a good friend, or friend
ship
?
Someone who will be there for you no matter what, and will be honest enough to tell you something that a stranger wouldn't. Especially if it involves character flaws, or ways you could do things better. I also think a good friend is someone that you can go for a long time without seeing and pick up right where you left off, like not time had passed at all.
2. What is the last thing you bought & later regretted?
I just bought this fabulous Coach purse today:
And I don't regret it one bit!
3. Have you ever had a prank played on you?
Yes, and I don't want to talk about it either...
4. What is your favorite theme park?
The only one I've been to is Six Flags

.
5. Have you ever seen someone else give birth?
No, I haven't, but I would love to some day. I love all things labor and delivery related. I totally don't mind the pain at all and I'd love to watch another woman give birth naturally like I have done with my 2 daughters.
That's it for this week. I'm hoping that I'll be able to keep up my blog when I go back to work, but I won't have a whole lot of free time anymore. Tuesday is the big day, please pray for me, I really don't want to have a nervous break down, but I can feel the stress and worry building inside me the closer I get to that day...