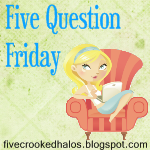 Hi All! This is a great Friday for me. Tonight around 8ish, we are hitting the road and driving our happy selves to Destin, Florida for vacation! I haven't had a vacation like this one since 5 years ago. Actually, it will be 5 years to the day. We arrive at the beach on June 5th, the same day we started our honeymoon 5 years ago. Happy Anniversary to us!
Make sure you check out Mama M. for her answers to this weeks questions, rules and linky things and what not! Have a great weekend, make sure you check back in this week for my guest bloggers. It's going to be fun!
Happy Follow Me Friday, Social Parade Follower Friday Blog Hop and Friendly Friday Follow! Hope you like what you see and decide to follow me!
Now, let's get on with the questions.
1.
If you could go back to college would you change your major? Or, if you were to go to college right now...what major would you choose?
Never went to college, but if I were to go right now, I would probably go for something cool like photography or maybe massage therapy.
2. What do you love most about your home?
Our newly remodeled upstairs! Everything is fresh and new and so cozy and cute. I just love it!
3. What types of books do you like to read (if you like to read at all)?
I love to read, if only I had more time! Christian Fiction by authors like Karen Kingsbury, Michael Phillips, and there are many more, but those are the two names that I can think of off the top of my head.
4. What is the grossest thing you've ever eaten?
This isn't really gross, but it's the only thing I can think of. I can't stand raw onions or peppers. There is something about the taste and texture I don't like at all.
5. If you HAD to be a character on a TV show, whom would you be?
I'd like to be the mom on 7th Heaven! I've always wanted to have a big family and have lots of kids to take care of.