It's Friday again! Which means it's 5 Questions with
Mama M.
Hope you all have a great Friday and an even better weekend!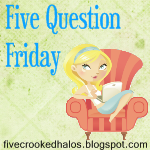 1. How much time do you spend on the computer a day?
Way more than I need to. I don't even want to think about the hours that I can waste just sitting here, reading blogs, playing with my blog, playing on Facebook, reading emails, browsing through my favorite shopping places. As you can see, it's a lot.
I'm really trying to get better with my computer time, because it's not fair to my family when I'm glued to this screen. I'm trying to do most of my computer time during naps or after the girls are in bed. Unfortunately that means I stay up late and don't get lots of sleep. Something will have to change when I go back to work...
2. Will you pay for your children's college or raise them to pay for their own way?
Good question.
I've always been of the mindset that I would raise them to pay their own way. That's how my parents would have done it if I had chosen to go to college. On the other hand, my husband's parents paid for his and his sisters education and most of their expenses while in college as well.
This is something Ross and I have talked about from time to time. We haven't settled on what course of action we'll take for our children. I'm thinking it may end up being a combination of both. We'll encourage them to get scholarships and help them with some of the expenses. But, I'm a firm believer in working hard for what you want and then you have more respect for it and feel more ownership over it instead of just having it handed to you.
3. Have you ever been in a car accident?
Yes.
Thank you Jesus, we were not hurt, just very shook up. Here is my
post
about it.
I'm still a little gun shy every time we're in the car and it's raining.
4. What is your favorite book?
Oh wow........I don't think I can even begin to answer this question.
There are just too many.
Here are just a few:
All 4 of the Twilight Saga Books.
Any book by Karen Kingsbury
The Secret of the Rose Series by Michael Phillips
5. Do you make your bed everyday?
I didn't used to, but now that Alexis is old enough to start helping do those kinds of things I do. I want my kids to make their beds everyday, so I'm trying to lead by example.